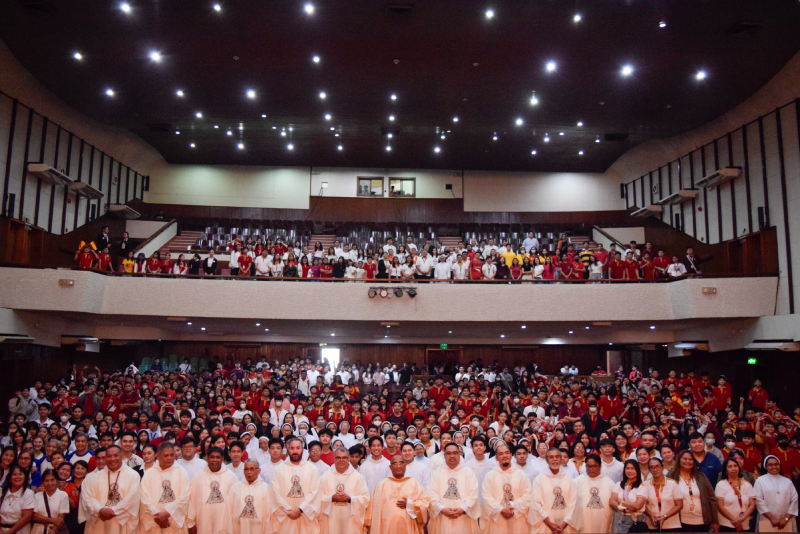 By Narciso Delos Reyes Valeriano Jr. MCM
Prior General Fray Miguel Hernandez Dominguez, OAR, the highest official of the Order of
Augustinian Recollects was warmly welcomed by the Augustinian Recollect Manila Community
represented by San Sebastian College-Recoletos, Manila, San Sebastian Parish, The Parish of Our Lady of Peace and Good Voyage, St. Rita College, AR Sisters and Former Seminarians of the Order of
Augustinian Recollects (FORSOAR) as part of his landmark fraternal visit in the Province of St.
Ezekiel Moreno yesterday, October 25, 2023.
The Prior General along with the General Secretary, Fray Luciano Audisio Matias, OAR, were treated with warm Filipino hospitality by the school administrators, students, faculty members, parishioners and the rest of the AR Manila community members. During his arrival, a Karakol dance was showcased by Our Lady of Peace and Good Voyage along with the Metropolitan Manila Development Authority Marching (MMDA) Band.
A plethora of cultural performances were showcased by the students and employees of SSC-R Manila, St. Rita College, San Sebastian Parish and our Lady of Peace and Good Voyage Parish at the
Bulwagang Diego Cera, SSC-R Manila followed by the Prior General's Talk and Eucharistic
celebration presided by Fr. Joseph Granada, OAR with Fr. Dennis Castillo, OAR as homilist. The
program was punctuated by community luncheon dubbed as Pistang Rekoleto and more traditional
dances and choral medley performed by students and San Sebastian Chamber Singers.
In his Facebook posts, the Prior General expressed his appreciation to the community for organizing
the event and we quote "Spectacular reception at SSC- Recoletos, Manila.", A bit of the rich cultural diversity presented at SSC- Recoletos de Manila."