San Sebastian College-Recoletos, Manila as an institution of learning, provides quality Catholic Christian education that ensures the promotion of culture, the welfare of society, and the total development of man geared towards the attainment of eternal salvation.
As an Augustinian Recollect Institution, our philosophy of education is based on the Augustinian belief that the person should first be developed integrally.
OUR GOAL is to make knowledge as structure of wisdom, and that this search for knowledge (SCIENTIA) should lead us to the exercise of love (CARITAS).
We want San Sebastian College-Recoletos, Manila to be a leading dynamic Catholic Christian educational institution whose graduates are intellectually and globally competitive individuals imbued with Augustinian Recollect values.
We commit to provide quality Catholic Christian education for the holistic formation of every person to become socially responsible, morally upright, academically and technologically competent leaders and professionals ready to meet the needs and demands of the local and global communities.
San Sebastian College – Recoletos commits itself:
To form the members of the School community into total human persons for the realization of the mission of the Catholic Church in the light of the Augustinian Recollect ideals.
To mold the spiritual and moral values of the student making them mature and responsible Catholic Christians enlightened and permeated by faith.
To produce academically and technologically competent graduates equipped with knowledge and skills that empower them to face the challenges of the time.
To nurture the leadership qualities and professionalism of students to make them ready for the demands of the local and global communities.
To enhance the research climate within the School through intensive development programs and projects.
To develop the individual's social awareness and community service.
To strengthen the School community's commitment to national progress by preserving and living the Filipino cultural heritage and values.
LOVE: The selfless giving, care, forgiveness and compassion one has for others
MARIAN DEVOTION: The love, admiration and dedication to Mother Mary
MORAL INTEGRITY: The desire to live a virtuous life worthy of emulation.
SERVICE: The willingness, availability and readiness to share generously one's time, resources and expertise to the institution and to the community
PASSION FOR EXCELLENCE: The zeal to do the best in everything that one does
COMMUNITY LIFE: Working together harmoniously with an open mind and acceptance of the uniqueness of the individual member
JUSTICE AND PEACE:

The willingness to give what is due to others, upholding what is fair, just and lawful, for unity and harmony
INTERIORITY.  "Do not scatter outside. Enter into yourself because truth dwells in the interior man." (St. Augustine, De Vera Rel. 39, 72)
TRUTH.  "The voice of truth does not keep silent, the lips do not move, but it yells to the heart." (St. Augustine, De Vera Rel. 39, 72)
FREEDOM. "True freedom is living not as slaves under the law, but as free persons under grace." (St. Augustine, Rule, 8, 47)
COMMUNITY. "The common good first before one's own and not one's own before the common good." (St. Augustine, Rule 5, 30)
FRIENDSHIP. "To love and be loves is the most important thing for me." (St. Augustine, Conf. 3, 1)
SOLIDARITY AND JUSTICE. "It would be better if nobody would feel hungry and thus you would not give somebody something." (St. Augustine, Ep. Io. 8, 5)
SEBASTINIAN GRADUATE ATTRIBUTES
Demonstrates and lives the Catholic Christian Faith and moral norms.
Shows respect towards other people's faith, environment and other cultures.
Exhibits Recollect and Sebastinian core values worthy of emulation in the workplace.
Observes proper decorum in all places.
Community -Oriented and Socially Responsive
Shows genuine concern for others especially the poor and marginalized.
Shares/offers willingly one's time, talent and resources for the community.
Exercises critical and reflective thinking in relation to social issues and concerns.
Practices awareness and concerns for God's creation.
Generates and communicates new ideas and approaches, clearly and effectively, regularly updates latest technological trends and undertakes innovations.
Performs assigned tasks efficiently and actualizes plans effectively.
Demonstrates capabilities to work and compete in a global setting.
Demonstrates research skills and analytical ability in the actual work setting.
Holistic and Reflective Life-long Learner
Pursues personal, spiritual, cultural and professional growth consistently and continually.
Exhibits resiliency above adversities.
Shows ability to solve problems.
Demonstrates flexibility, openness and strength of character for continuous change and improvement in the community or work setting.
RECOLLECT GRADUATE ATTRIBUTES
Demonstrate personal relationship with Christ through search for truth in prayers and introspection towards "life under the shelter of God, life with God, life received from God, the very life of God himself" (Sermon 297; OAR Constitutions 8)
Show love and concern for family, church, and society by building friendship and solidarity "as children of God and brethren of Christ"
Share the joy of the Gospel "for all people to love God with us" especially "to the weakest members" and show care for the environment
Emulate Mary, Our Lady of Consolation, as model of faith, humility and obedience and "as a sign of sure hope and of comfort for the people of God on their journey."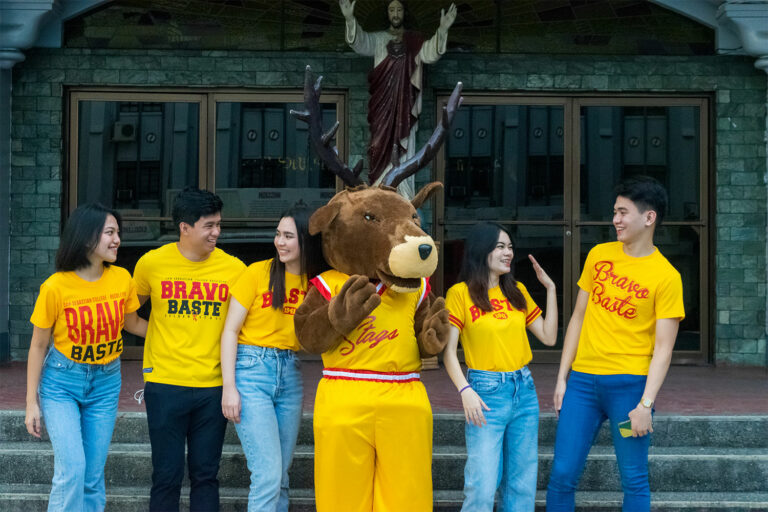 LIFE PURPOSE San Sebastian College-Recoletos, Manila as an institution of learning, provides quality Catholic Christian education that ensures the promotion of culture, the welfare of
Learn more