Baste celebrates 81 years of journey as one strong community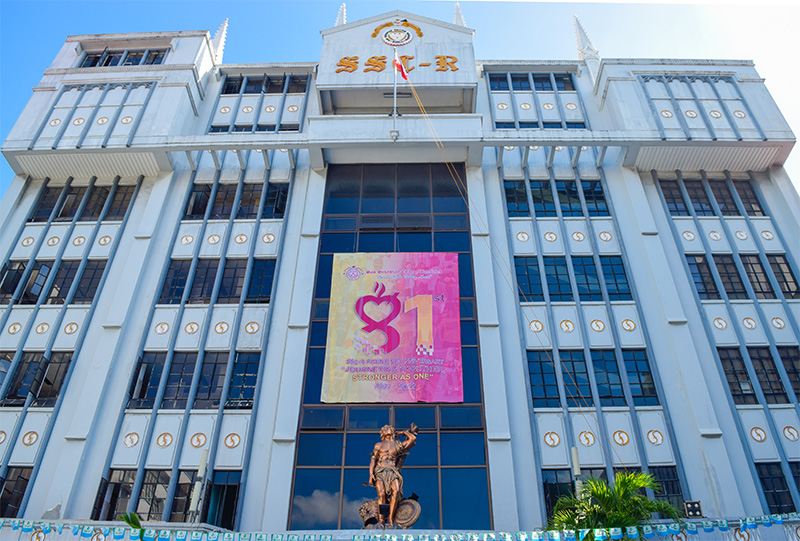 Bannering this year's theme: "Journeying Together, Stronger as One", San Sebastian College – Recoletos, Manila marked its 81st Foundation Anniversary. Despite being postponed due to the surge in COVID-19 cases last January, the Sebastinian community successfully staged a virtual celebration on March 28-30.
Rev. Fr. Henry H. Santiago, O.A.R., College President, encouraged the whole community through his homily during the opening mass "to strengthen our faith by deepening our relationship with God and repairing our relationship with one another." He also highlighted that the participation and commitment in making the institution's journey meaningful is due to everyone's belief in its vision and mission.
The festivities kicked off with the Opening Salvo where Sebastinians, current and alumni, came together to commemorate the long journey of Baste in becoming a strong institution. Highlights of the event were the video recollection of SSC-R, Manila's history, the performances of select students, and the expression of greetings and gratitude by the alumni.
In the afternoon of day one, Institutional Speech Fest, E-sports, and Recoletos Star commenced. Institutional Speech Fest had five contested events namely: Poem Reading, Dramatic Declamation, Oration, VJ Hosting, and Newscasting while E-sports also had three e-games tournaments namely: Valorant, Mobile Legends: Bang Bang, and Call of Duty-Mobile and three e-board games namely Chess, Scrabble, and Game of the Generals.
Recoletos Star was launched in search for the new OAR schools' ambassador embodying the qualities of a true Recollect student. Contestants showed their skills, wits, and personalities through their video entries.
Outreach Day was the highlight of the morning of day two. Sebastinian Community Development and Extension Office spearheaded the event at the new partner community where they donated books, school supplies, and hygiene kits. Online storytelling with Ms. Kathie Lee Berco also entertained the children in the community. Meanwhile in the afternoon, seven researchers from both Manila and Canlubang campuses presented their research works during the Caritas et Scientia Research Colloquium.
Finals of the E-sports and Speech Fest were held on day three. In true Sebastinian spirit, the community once again gathered for the Pistang Sebastino, a festive tradition where members of the community strengthen the bond through socialization, sharing food and stories with each other.
Moreover, 31 service awardees from both Manila and Canlubang campuses were honored through a virtual recognition. Fr. Santiago described the event as "special, not only for the awardees but also for all … because you're all part of the human resource component which strengthens our fiber as an educational institution."
Capping off the three-day celebration, a virtual concert was streamed live via Stags Facebook Page. Members of the Sebastinian community showcased their talents through song and dance performances. Winners in the different contested events were also announced. Rev. Fr. Arnel F. Diaz, O.A.R., Director for Basic Education, closed the event with his message of gratitude and encouragement to everyone to continue journeying and staying strong with SSC-R, Manila.