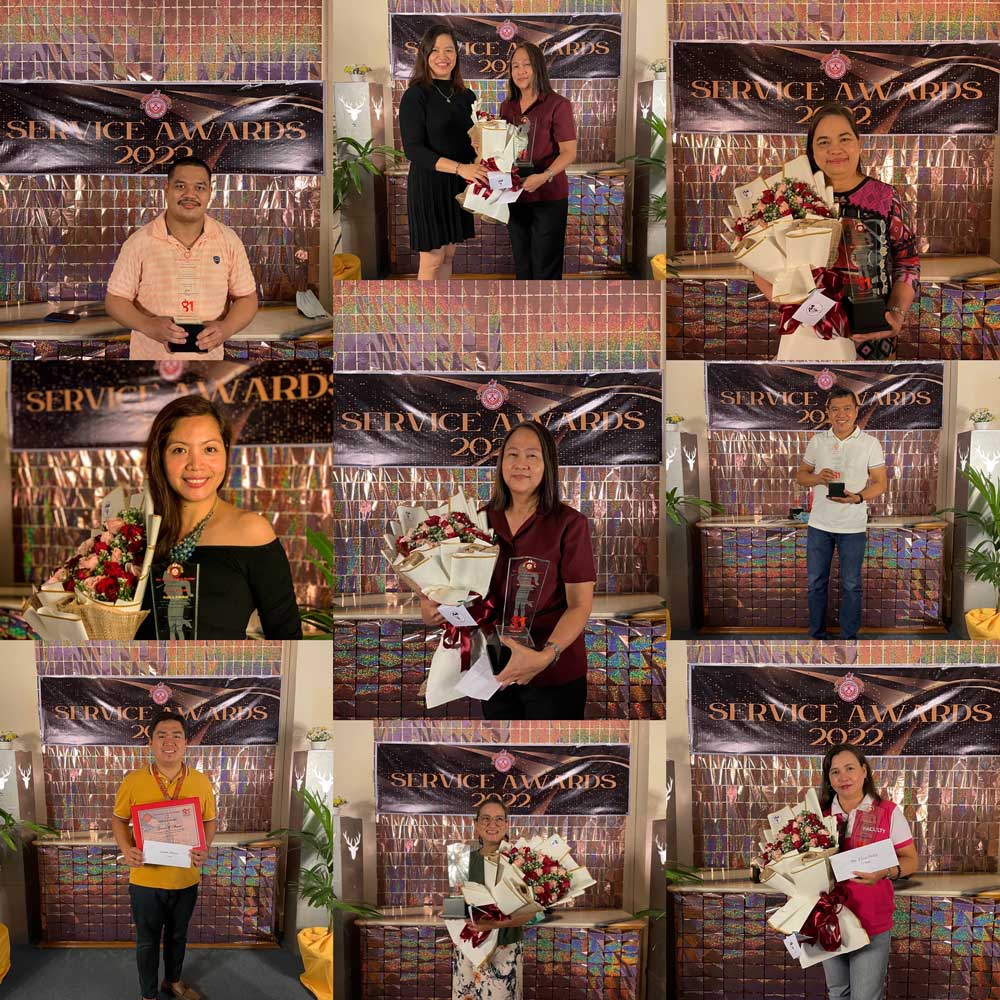 By: Mary Grace S. Poblete
A virtual ceremony for the Service Awards 2022 was preferred by the majority of the awardees through a survey conducted. The awardees were presented to the school community through a video streamed via Stags, the official Facebook page of San Sebastian College-Recoletos Manila on March 30, 2:30 p.m.
The virtual ceremony was hosted by Mr. Bon Olib, faculty member of the Senior High School Department. Thirty-five (35) year awardee, Ms. Buenafe Juanillas of the Library Systems gave a heartfelt message in behalf of the awardees, while the School President, Rev. Fr. Henry Santiago, OAR expressed the school's appreciation for the service and commitment manifested by the awardees through the years.
The Service Awardees 2022 are as follows:
Abayan, Gemar M.
Endaya, Paolo J.
Morales, Ma. Cerila B.
 Gual, Randy
Olib, John Benedick G.
Quirante, Joel G.
10-year Service Awardees:
Catacutan, Jennylyn R.
De Castro, Gladys M.
Delgado, Jeremiah M.
Honrales, Imelda L.
Kalalo, Albert Mar D.
Poblete, Mary Grace S.
15-year Service Awardees:
Almazan, Ma. Jennie E.
Caramat, Mary Jane C.
Dilig, Arnaldo M.
Esteva, Mia Fey A.
Geronda, Guillermo L.
Hernandez, Cecilia D.
Ong, Jennie Joy D.
Pamaran, Hazel G.
Zoleta, Ma.
Antonieta G.
20-year Service Awardees:
Maranan, Mario H.
Ramirez, Jay A.
Zamora, Frederick
Andrew M.
30-year Service Awardees:
Ilagan, Flory E.
Lumbis, Amelia G.
Narca, Ma. Lourdes G.
Nicolas, Rhonel D.
The certificates, plaques and cash incentives were claimed by the awardees at the Human Resource Development Center. Photos were also taken as souvenirs of the event. The awardees were delighted and grateful to receive the award despite the challenges posed by the pandemic to the institution.